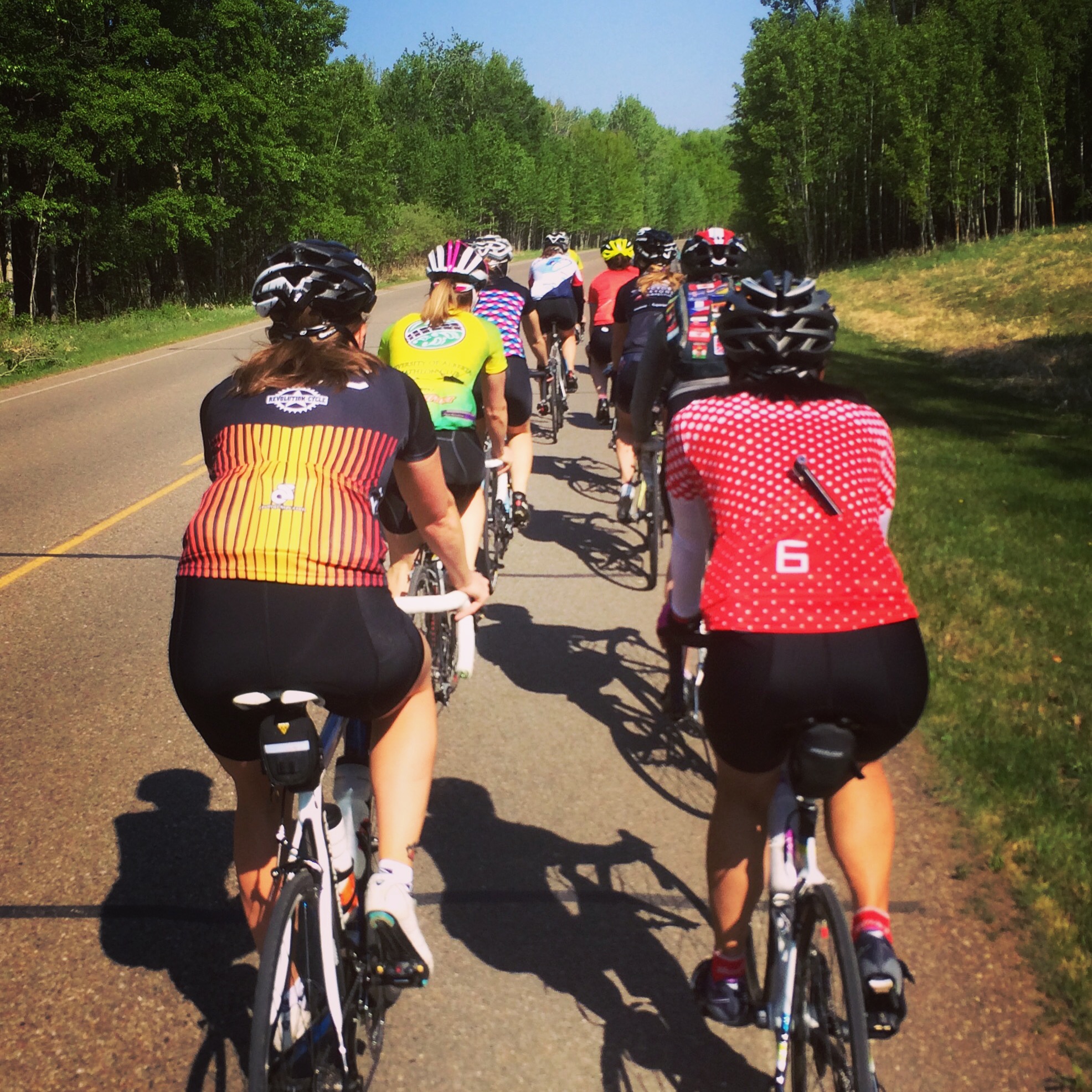 Calling all Women on Wheels, Broads on Bikes, Babes in Bibs,

Girls with Gears....
Last season I realized that the Edmonton cycling community was missing out on a key demographic of rider – the non-racing woman. As a non-racing female cyclist who loves to ride, I wanted to find a way to support and promote other women cyclists who share a similar passion – and the Women of ERTC group was born.
This group is still in it's infancy and my intent is to create a group that meets the needs of those interested – so I'm looking for honest feedback along the way. Our 2016 WoE Schedule and Structure details our ride options, ride cancellation guidelines, and rider requirements.
If you have any questions, concerns, feedback, or would like to express interest so I can include you in our group's emails please contact me at women@ertc.org.
Tiffany Baker ~ Women's Cycling Manager
Purpose of the group
To give women the opportunity to:
Ride in a female only group with riders who have similar goals and face similar challenges

Gain confidence in many areas: fitness, bike handling skills, bike maintenance knowledge, the ability to enjoy other regular club rides

Ride in a less intimidating environment

Challenge yourself with others to support and hold you accountable

Have other group ride options in addition to the regular club rides

Meet other women who love to ride
Ride options
Weekday Evening Ride

: Tuesdays from 6:15pm - 8:15pm

Ride types: city circuit, hills, country ride, intervals, skills training (drafting, cornering, speed work)

Weekend Ride: Sundays from 10:00am - 1:00pm

Ride type: Out of the city ride focusing more on distance and cohesive group riding. Expect 50-75km's on average for this ride.

Support at regular ERTC club rides.

If you'd like to try a regular club ride but are uncertain about distance, pace, or anything else – we will pair you up with another female rider whose role will be to partner with you on that ride until you feel comfortable. This rider will know the route and will be skilled at group riding so as to help you out in whatever way you need

Larger women's only ride events

open to women outside of ERTC throughout the season. I planned 2 rides like this last year (Double XX 100km Ride & Broads on Bikes with Bison) which went over very well. Distance and destination will vary – but rides will likely be between 75-100km and at a pace inclusive of most riders. First larger event of the season may be shorter to get everyone back into the swing of things

Ride location and type/distance will be communicated via email to all ERTC female club members and will be posted on the ERTC Facebook page

For further information on our rides, please see our 2016 WoE Schedule and Structure
Rider requirements
In order to ride with the WOE you must:
Be a regular ERTC member, or a secondary member.

If you are a secondary member we ask that you don't race with your primary team. Cost for a secondary membership is $70

Not sure you want to join? We have a one-ride policy, which means you can ride with us for one ride before making your decision, as mandated by the Alberta Bicycle Association. If you want to ride with us for this one ride, please sign the Waiver here.

Membership is not required for larger inter-club women only rides that we organize

Have a road bike, helmet, and appropriate clothing in good working condition

For safety reasons, Time Trial bikes are not allowed on group rides.

Mountain bikes can provide added challenges on group rides (added friction of the tires makes it harder to maintain the same speed as road bikes as an example) and are discouraged

Cross bikes and touring type bikes are acceptable but can provide their own challenges as well. If this is the only bike option you have please still come to a ride and we can assess the suitability from there.

Have a passion for cycling – not matter what your level

Have a desire to share that passion with other cyclists